Auto Mechanic in Deer Park, TX
Mousa's Automotive Service has been providing top-level automotive care to customers throughout Deer Park, Baytown, Pasadena, and Harris County, TX since 1999. Our ASE-certified technicians are happy to service any make or model of vehicle, delivering a full scope of auto repair services that include oil changes, transmission and engine repair, tune-ups, inspections and automotive diagnostic checks. Schedule an appointment with our mechanics and brake shop today.
Your Local Brake Shop & Car Mechanic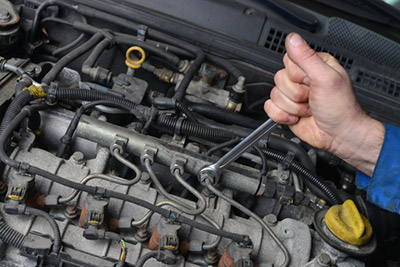 Dealing with auto repair in Deer Park, TX is never a fun experience. At Mousa's Automotive Service, we understand this, which is why we make it our number one priority to deliver top-quality, quick, reliable auto repairs to our customers. We strive to keep your stress levels as low as possible and are totally dedicated to your complete satisfaction. Whether you're visiting up for a routine oil change or you're dealing with a complicated transmission problem, rest assured our car mechanics will go above and beyond for you. We understand that our customers come first, which means never compromising on the services we deliver or the attitude with which we deliver them. It's what keeps customers coming back to us any time they require auto service or repairs.
When it comes to car repair in Deer Park, TX, there's not much we can't do! Our talented staff works on both foreign and domestic vehicles, alike. Come to us for routine services and general auto repair, or make us your destination for specialty services—we welcome vehicles and problems of all types! In addition to specializing in services like auto electrical, we're also a State-certified emissions testing facility, capable of delivering inspections and repairs to vehicles with emissions concerns. Take a look at a few more ways we go above and beyond for our customers:

We staff only ASE-certified auto mechanics and hold our standards to the highest levels of quality.
Our service capabilities extend to both foreign and domestic vehicles.
We have more than 40 combined years of automotive experience on staff.
Our business has been proudly locally-owned and –operated since 1999.
We offer competitive rates on all of our services.
Commercial accounts welcome!
Schedule Your Appointment
When your vehicle needs expert repairs from an honest, qualified mechanic, make Mousa's Automotive Service your destination. Contact us today to schedule an appointment.
Proudly serving residents of the following areas:
Deer Park, TX
La Porte, TX
Clear Lake City, TX
Seabrook, TX
Baytown, TX
Harris County, TX